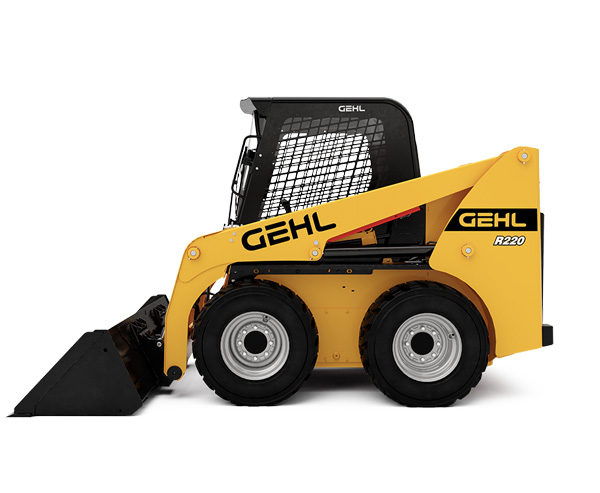 Skid Loader (Four Rubber Tires)
The Next Revolution
Vertical-Lift Skid Loaders
Providing more reach at full lift height is optimal for applications that require loading and stacking at high heights. By keeping the load closer to the machine, lift capacities are increased over radial-lift models.

R Series Skid Loaders
The versatile Gehl Radial-Lift Skid Loaders are designed to meet the demanding needs of contractors, municipalities, landscapers, mining, dairies and agricultural operations.

These skid loaders feature an all-new operator station with an integrated digital display, new load arm design with increased visibility, Tier IV engines and several serviceability enhancements.
Gehl Construction Track Loaders
Gehl RT Series Compact Track Loaders
The RT Series Track Loaders from Gehl provide high performance in a fully customizable package. Since entering the track loader market in 2001, Gehl has dedicated itself to the needs of its equipment owners. We have ensured that our track loaders provide the power and features necessary to get the job done. The IdealTrax™ Automatic Track Tensioning System maintains tensioning of the tracks when the engine is started and during operation. This decade of expertise has culminated in the RT Series track loaders.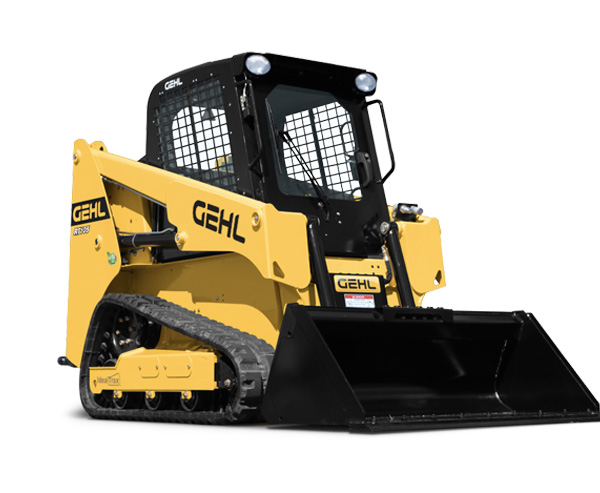 RT105 Track Loader
Rated Operating Capacity at 35% Tipping Load (kg): 1,050 lbs. (476)
Power (kW): 35 hp (26)
Lift Height (mm): 109" (2769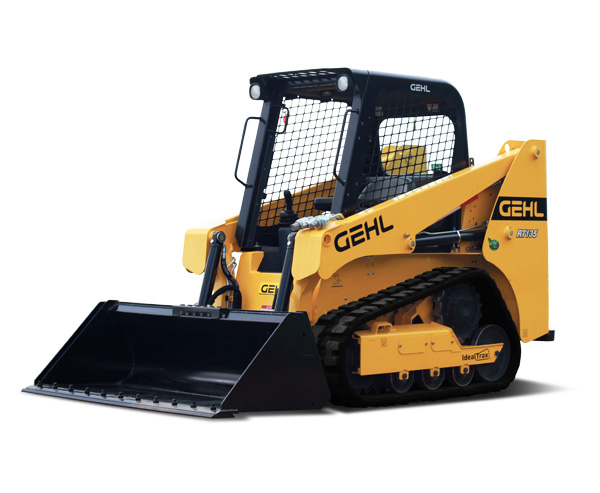 RT135 Track Loader
Rated Operating Capacity at 35% Tipping Load (kg): 1,350 lbs. (612)
Net Power (kW): 46.6 hp (34.3)
Lift Height (mm): 110" (2794)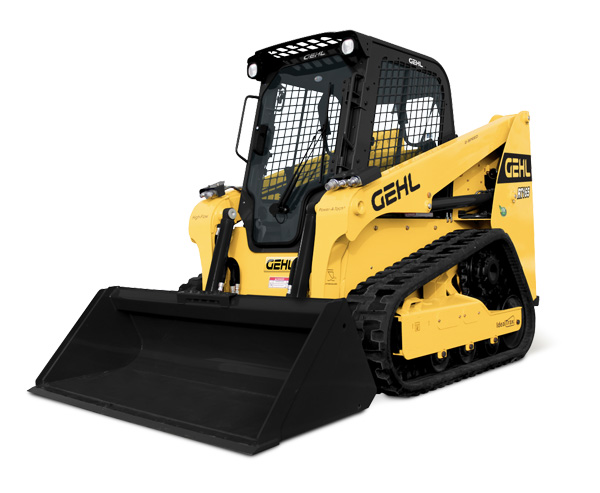 RT165 Track Loader
Rated Operating Capacity at 35% Tipping Load (kg): 1,650 lbs. (748)
Net Power (kW): 68.4 hp (51)
Lift Height (mm): 119.6" (3038)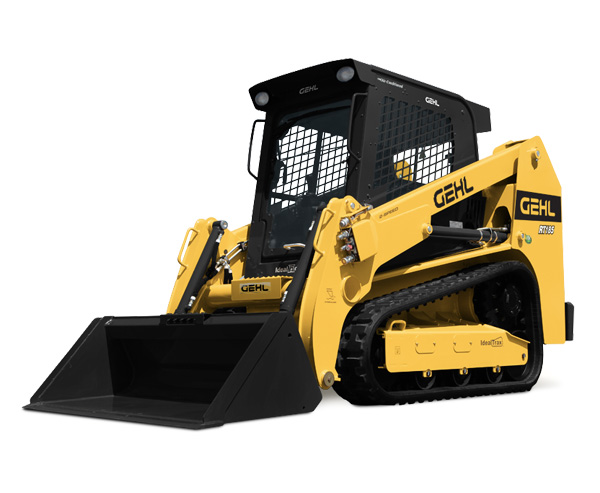 RT185 Track Loader
Rated Operating Capacity at 35% Tipping Load (kg): 1,850 lbs. (839)
Gross Power (kW): 69.9 hp (52.1)
Lift Height (mm): 128" (3251)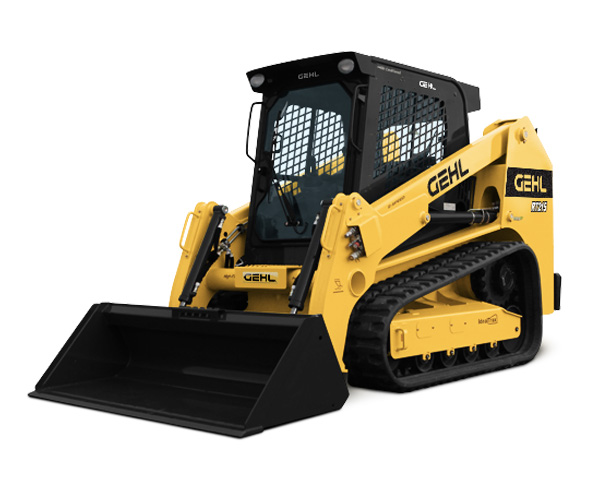 RT215 Track Loader
Rated Operating Capacity at 35% Tipping Load (kg): 2,150 lbs. (975)
Net Power (kW): 72 hp (54)
Lift Height (mm): 128" (3251)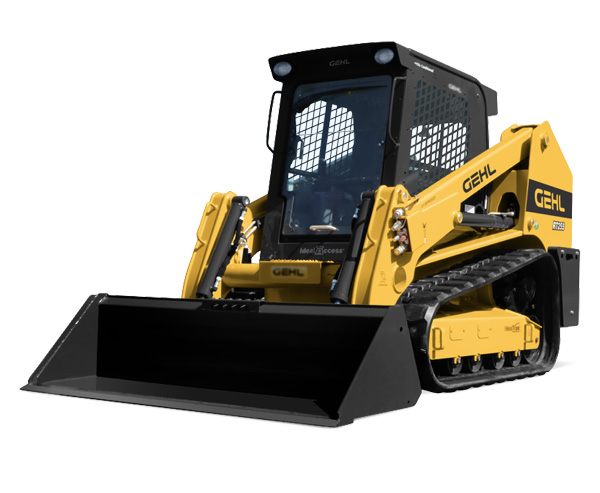 RT255 Track Loader
Rated Operating Capacity at 35% Tipping Load (kg): 2,550 lbs. (1157)
Gross Power (kW): 74.3 hp (55.4) @ 2300 rpm
Height to Hinge Pin - Fully Raised (mm): 128" (3251)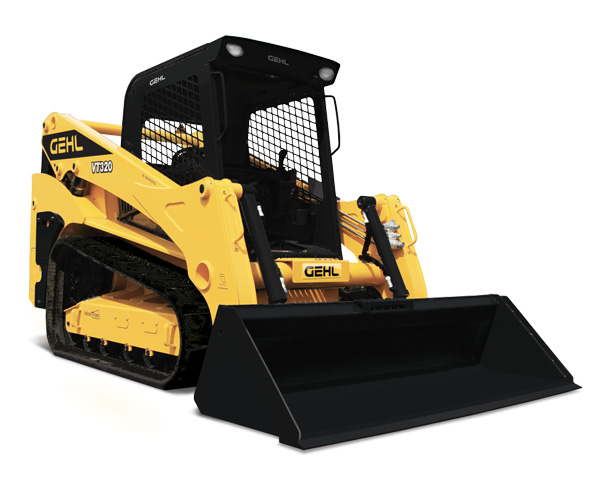 VT320 Track Loader
Rated Operating Capacity at 35% Tipping Load (kg): 3,200 lbs. (1452)
Net Power (kW): 114 hp (85)
Lift Height (mm): 130" (3302)
Gehl RT Series Specifications
RT105
RT165
RT185
RT215
RT255
VT320
DIMENSIONS
Overall Operating Height – Fully Raised (mm)
143.7" (3650)
157.8" (4008)
168" (4267)
168" (4267)
168" (4267)
169" (4293)
Height to Hinge Pin – Fully Raised (mm)
109" (2769)
119.6" (3038)
128" (3251)
128" (3251)
128" (3251)
130" (3302)
Reach – Fully Raised (mm)
26.5" (673.1)
25.3" (641)
34.5" (876)
34.5" (876)
34.5" (876)
40.4" (1026)
Dump Angle – Fully Raised
38°
39°
40.2°
39°
41°
41°
Dump Height – Fully Raised (mm)
84" (2134)
91.7" (2329)
98" (2489)
98" (2489)
98" (2489)
99.6" (2530)
Maximum Rollback Angle – Fully Raised
102°
98°
102.5°
102.5°
102.5°
90°
Overall Height at ROPS (mm)
71.5" (1816)
77.5" (1969)
83" (2103)
83.1" (2111)
83.1" (2111)
83.1" (2111)
Overall Length w/ Bucket – Std. c-wt. (mm)
117.5" (2985)
126.2" (3205)
148" (3754)
148.4" (3769)
157.8" (4008)
159.8" (4059)
Overall Length w/o Bucket – Std. c-wt. (mm)
88.9" (2258)
94.2" (2393)
114.8" (2921)
116.5" (2959)
126.8" (3221)
127.7" (3243)
Specified Height (mm)
57.7" (1466)
64.5" (1638)
67.5" (1715)
67.7" (1720)
67.7" (1720)
76.3" (1938)
Reach at Specified Height (mm)
39" (991)
22" (559)
31.1" (790)
31.3" (795)
31.3" (795)
29.6" (751)
Dump Angle at Specified Height
72°
73°
66.8°
75°
66.8°
68°
Maximum Rollback Angle at Ground
32°
28°
30°
30°
30°
31°
Carry Position (mm)
5" (127)
7.8" (198)
8.2" (208)
8.2" (208)
8.2" (208)
7.8" (199)
Maximum Rollback Angle at Carry Position
32°
28°
31.6°
31.6°
31.6°
31°
Digging Position – Below Ground (mm)
0" (0)
2.1" (53)
+0.9" (23)
+0.6" (16)
+0.5" (13)
+0.74 (19)
Angle of Departure with Std. c-wt.
35°
28°
30.4°
29.2°
25°
24°
Ground Clearance (mm)
7.5" (191)
7.3" (185)
12.5" (318)
12.6" (320)
12.3" (313)
12.2" (309)
Track Gauge (mm)
40.9" (1039)
53.4" (1356)
51.7" (1313)
51.7" (1313)
51.7" (1313)
51.7" (1313)
Track Shoe Width (mm)
9.8" (250)
12.6" (320)
12.6" (320)
17.7" (450)
17.7" (450)
17.7" (450)
Crawler Base (mm)
50.5" (1283)
49.8" (1265)
54.8" (1392)
58.4" (1483)
61.5" (1562)
61.8" (1570)
Overall Width – Less Bucket (mm)
50.8" (1290)
66.0" (1676)
64.4" (1636)
69.5" (1765)
69.5" (1765)
69.5" (1766)
Bucket Width (mm)
54" (1372)
66.0" (1676)
65.9" (1674)
73.9" (1877)
83.9" (2131)
83.9" (2131)
Clearance Radius – Front With Bucket (mm)
73" (1854)
77.9" (1979)
91.4" (2322)
94.6" (2403)
98.4" (2499)
96.1" (2442)
Clearance Radius – Rear w/ Std. c-wt. (mm)
50.8" (1290)
56.7" (1440)
65.6" (1666)
64.6" (1641)
70.7" (1796)
73.6" (1870)
Maximum Rollback at Specified Height
72°
62°
66.8°
66.8°
66.8°
64.5°
Angle of Approach
90°
90°
90°
90°
90°
90°
Grouser Height (mm)
1" (25)
1" (25)
1" (25)
1" (25)
1" (25)
1" (25.4)
CAPACITY
Operating Capacity at 35% Tipping Load (kg)
1,050 lbs. (476)
1,650 lbs. (748)
1,850 lbs. (839)
2,150 lbs. (975)
2,550 lbs. (1157)
3,200 lbs. (1452)
Operating Capacity at 50% Tipping Load (kg)
1,500 lbs. (680)
2,357 lbs. (1069)
2,643 lbs. (1199)
3,072 lbs. (1393)
3,643 lbs. (1652)
4,571 lbs. (2074)
Tipping Load (kg)
3,000 lbs. (1361)
4,715 lbs. (2139)
5,286 lbs. (2398)
6,144 lbs. (2787)
7,286 lbs. (3305)
9,143 lbs. (4148)
Operating Weight (kg)
4,720 lbs. (2141)
8,020 lbs. (3638)
9,160 lbs. (4128)
9,900 lbs. (4491)
11,600 lbs. (5260)
11,610 lbs. (5267)
ENGINE
Make/Model
Yanmar/3TNV88C- KMS Tier IV
Yanmar/4TNV98C- NMS2 Tier IV
Yanmar / 4TNV98C- NMSL Tier IV
Yanmar / TNV98CT- NMSL Tier IV
Deutz / TD 3.6 L4 Tier IV
Deutz / TD 3.6 EPA Final Tier IV
Type
4-Stroke Naturally Aspirated
4-Stroke Naturally Aspirated
4-Stroke Naturally Aspirated
4-Stroke Turbo
4-Stroke Turbo
4-Stroke Turbo
Displacement (L) / cylinders
100.2 cu. in./3 (1.642 L)
203 cu.in./4 (3.3 L)
203 cu. in. (3.3) / 4
202 cu. in. (3.3) / 4
221 cu.in. (3.6) / 4
221 cu.in. (3.6) / 4
Gross Power (kW) @ rpm
34.7 hp (25.5) @ 2800
69.3 hp (51.7) @ 2500
69.3 hp (51.7) @ 2500
72 hp (53.7) @ 2500
74.3 hp (55.4) @ 2300
114 hp (85 kW) @ 2300
Net Power (kW) @ rpm
31.8 hp (23.7) @ 2800
68.4 hp (51.0) @ 2500
68.4 hp (51) @ 2500
70.7 hp (52.7) @ 2500
70.7 hp (52.7) @ 2300
108 hp (80.8 kW) @ 2300
Peak Torque (Nm) @ rpm
80.7 ft.-lbs. (109.4) @ 1820
178 ft.-lbs. (241) @ 1625
178 ft-lbs. (241) @1625
217 ft.-lbs. (294) @ 1800
243 ft.-lbs. (330) @ 1600
339 ft.-lbs. (430 Nm) @ 1600
Oil Pan Capacity (L)
6.2 qts. (5.87)
9.5 qts. (9)
11 qts. (10.4)
11 qts. (10.4)
9 qts. (8.5)
9 qts. (8.5)
Alternator Voltage / Amperage
12V / 55A
12V / 100A
14V / 100A
14V / 100A
12V / 120A
14V/95A
TRACK DRIVES
Drawbar Pull / Tractive Effort (kg)
4,400 lbs. (1996)
9,578 lbs. (4,345)
10,218 lbs. (4635)
12,133 lbs. (5503)
12,453 lbs. (5649)
12,770 lbs. (5792)
Track Type / Track Rollers / Roller Type
Rubber / 4 / Steel
Rubber / 3 / Steel
Rubber / 4 / Steel
Rubber / 5 / Steel
Rubber / 5 / Steel
Rubber/Steel
Track Width (mm)
9.84" (250)
12.6" (320)
12.6″ (320)
17.7″ (450)
17.7″ (450)
17.7" (450)
Ground Pressure (bar)
4.8 psi (.33)
6.5 / 5.2 psi (.45 /.36)
6.3 psi (0.43)
4.8 psi (0.33)
5.2 psi (0.36)
5.3 psi (.37)
FORCES
Bucket Breakout – Tilt Cylinder (kg)
2,975 lbs. (1346)
4,230 lbs. (1919)
5,354 lbs. (2429)
6,631 lbs. (3008)
8,384 lbs. (3803)
9,901 lbs. (4492)
Bucket Breakout – Lift Cylinder (kg)
3,042 lbs. (1376)
5,060 lbs. (2295)
5,016 lbs. (2275)
6,481 lbs. (2940)
7,437 lbs. (3373)
7,491 lbs. (3398)
Ground Speed – Single Speed (km/hr)
6.3 mph (10.1)
6.5 mph (10.5)
5.9 mph (9.5)
5.9 mph (9.5)
5.3 mph (8.5)
5.3 mph (8.6)
Ground Speed – Two Speed (km/hr)
N/A
10.0 mph (16.1)
8.8 mph (14.2)
8.8 mph (14.2)
7.5 mph (12.1)
7.8 mph (12.6)
VOLUME
Fuel Tank (L)
9.5 gal. (36)
16.5 gal. (62.5)
24 gal. (91)
24 gal. (91)
32 gal. (121.1)
32.5 gal. (123)
Hydraulic Reservoir Tank (L)
8 gal. (30)
10.3 gal. (39)
11.0 gal. (41.6)
13.8 gal. (52.2)
13.8 gal. (52.2)
16.5 gal. (62.5)
Coolant Capacity (L)
1.75 gal. (6.62)
3.4 gal. (12.9)
3.5 gal. (13.3)
3.8 gal. (14.4)
6.1 gal. (23.1)
5.1 gal. (19.3)
HYDRAULICS
Auxiliary Hydraulic Flow – Rated Speed (L/min)
14.5 gpm (55)
18.7 gpm (71)
18.5 gpm (70.0)
21.8 gpm (82.5)
29.07 gpm (110)
27 gpm (102.2)
High-Flow Hydraulic Flow – Rated Speed (L/min)
N/A
30.1 gpm (114)
34.0 gpm (128.8)
35.9 gpm (135.8)
37.3 gpm (142.7)
37.4 gpm (141.6)
Transmission Pump Type
Manual Tandem
Axial Piston
Axial Piston
Axial Piston
Axial Piston
Axial Piston
Motor Type
Radial Piston
Radial Piston
Battery Volts
12V
12V
12V
12V
12V
12V
Cold Cranking Amps at Temperature
800 CCA @ 0°F (-18°C)
950 CCA @ 0°F (-18°C)
850 CCA @ 0°F (-18°C)
850 CCA @ 0°F (-18°C)
950 CCA @ 0°F (-18°C)
950 CCA @ 0°F (-18°C)